Container planting is a great way to add more gardening space to your yard, patio, or even inside your home. With thousands of options from small single plant pots to large indoor planting systems, planting in containers can give you more opportunity to grow the plants you love and expand your garden.
There are a few things to keep in mind and some great tips that can help make your container garden a success. From picking the right container to soil health, we'll help you with these great tips. 
PICK YOUR PLANTS BASED OFF LOCATION
Depending on where your pots will be placed, you'll need to make sure you pick the right plant varieties. Most ornamental plants, fruits, and vegetables require 6 or more hours of sun. However, many herbs and other ornamentals do well under a shaded patio. Below are some recommendations on container planting that work well in most spring and summer climates in the US.
Intense Heat and Sunny: Do you have an area that gets hit with the hot afternoon sun? Plant varieties such as vincas, peppers, and potato vine.
Sunny: Many plants need 6+ hours yet can't handle the intense afternoon heat. Try petunias, tomatoes, verbena and daisy varieties.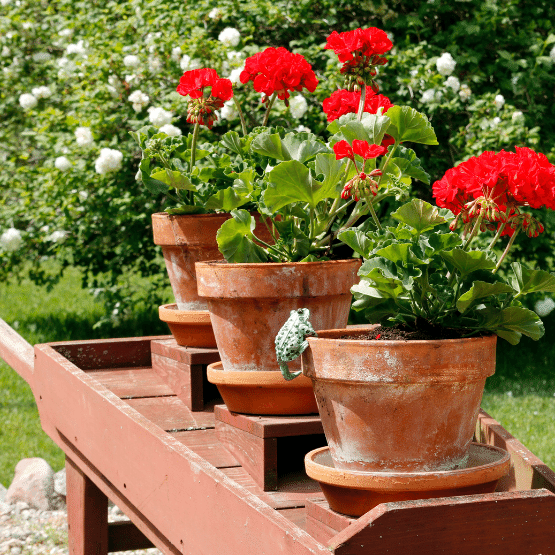 Partial Shade/Partial Sun: Don't limit yourself just because the area only receives 2 to 4 hours of direct sunlight. Plant coleus, ferns, and many herbs (mint, cilantro, parsley).
Full Shade: For areas completely underneath the patio with no direct sunlight, try succulents, hosta, brunnera, and herbs (rosemary, parsley, spearmint).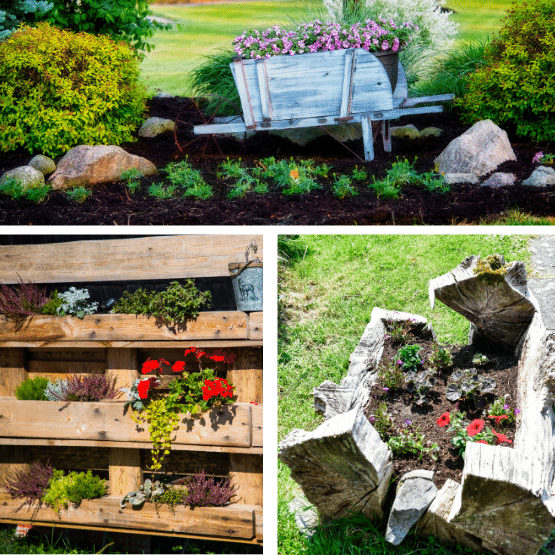 PICK OUT YOUR CONTAINER
Choosing the plants is fun, but the container is where you can have some fun and get creative. As long as you have a way for water to drain properly (bottom holes) and the container can hold soil you can plant in a variety of things. One thing to keep in mind with larger pots or raised beds, is that they require a lot of soil.
Container Ideas:
Use an old wheel barrow. Add some paint and holes at the bottom for a unique garden addition.

Prop up or hang wood pallets. By adding weed guard on the back and bottom of a wood pallet you can create a wall garden for a barrier or wall décor.

Hollowed out log. Using natural elements, you can add soil and plants to an old log. The log will begin decomposing and provide organic matter to soil organisms.
SOIL HEALTH!
We can't say this enough here at TeraGanix, but soil health is the key to successful gardening of any kind. This is even more true in container planting since once planted, it's a lot more difficult to change out the soil. When you add low-quality potting mix to your pots you risk additives such as herbicides, pesticides and fungicides. This is because many low quality soils do not ensure pest and weed free mixes and use additives to help kill any weed seeds or pest eggs. 
A high-quality potting soil with a mix of compost, top soil and perlite will work for most plants. A good mix will provide your plants with the essential nutrients it needs and high populations of beneficial microorganisms. Perlite is of great benefit to potted plants because of its light and airy texture. It has the ability to absorb moisture, but still allows excess to drain.
After placing the soil and plant in the pot, lightly pack down the soil around the root system. Add EM® Bokashi as a top dress for an all natural fertilizer and water in with 1oz EM-1® per gallon of water.
MOISTURE IS IMPORTANT
Before deciding where to add containers, you'll need to decide how best to irrigate them. Container planting is unique when it comes to watering schedules. Some materials, when placed in direct sun, can absorb the heat and dry soil quicker. On the other hand, slower drainage can cause soils to remain wet even if they seem drier on the surface. 
In cooler and wet climates, container gardens can be successful with hand watering. However, if you live in a hot and dry climate or tend to travel a lot, you'll have better success hooking your pots up to a drip system. Pay attention to timing as drips can easily flood a slow draining pot.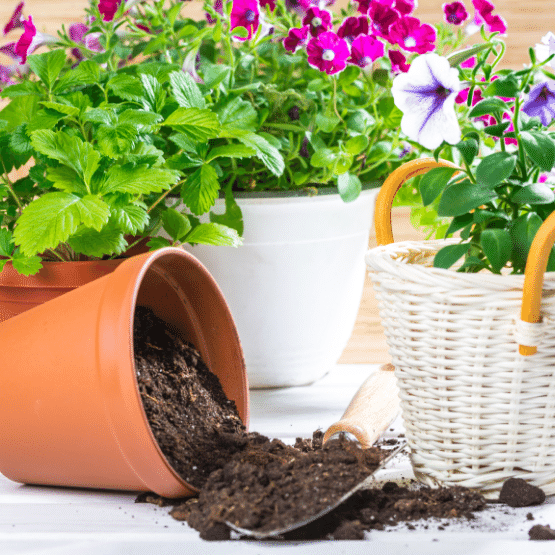 6.
PROVIDE NUTRIENTS AND MICROBES
Although indoor plants have the advantage of a more controlled environment, they also lack the beneficial aspects of getting nutrients and organic matter from leaves, dead plants, or organisms such as worms in the soil. However, there is no need for toxic fertilizers or insecticides. 
Adding EM-1® Microbial Inoculant will give your soil high populations of beneficial microorganisms. These microbes will break down organic matter in the soil and cycle nutrients into plant available forms. In addition, EM® Bokashi adds all natural and clean compost and nutrients. 
CARING FOR CONTAINER PLANTS WITH EM®...
DURING PLANTING: Mix EM® Bokashi in with the potting soil at 2% of soil volume. Water in with EM-1® at 1oz per gallon of water. 

MAINTAINING: Spray entire plant and water soil with a solution of 1 oz EM-1® per gallon of water, weekly. Sprinkle EM® Bokashi as a top dress on top of the soil, biweekly.

TRANSPLANTING: When changing to a bigger pot or changing out soil, re-mix EM® Bokashi with new soil and water in with EM-1® to decrease stress on the plant.