APC500 Nontoxic All-purpose Cleaning product
Apc500 is the hard-working probiotics cleaner that works its magic to break down dirt, grime and odors for up to 7 days! Apc500 is cost-effective and sustainable - one bottle of our multipurpose cleaner concentrate makes 16, 16 oz bottles of ready-to-use multi surface cleaner spray. Plus, it's safe for food, kids and pets – no gloves needed because it contains no Phthalates, parabens, ammonia, formaldehyde, dyes, synthetic fragrances or heavy perfumes and is biodegradable.
As an added plus - this activated cleaner does not need to be rinsed off and leaves no residue or film behind making it easy and hassle-free to use! Bring Apc500 home today to make your cleaning routine easier than ever before.
USDA certified organic, OMRI Listed.
INGREDIENTS

Organic Apple Cider Vinegar
Organic Yucca Extract
Organic EM-1®
Organic Grape Alcohol
Organic Apple Juice Concentrate
Organic Guar
Purified Water
DIRECTIONS

Dilute according to instructions and fill a trigger spray bottle.
Spray the surface area until visibly wet. Soak area if desired.
Wait 1 - 10 minutes then wipe dry with a clean cloth.
1 Gallon of APC500 makes up to 128 Gallons of cleaning solution.
shipping and returns

Shipping Information

UPS and USPS can deliver most items within 3–5 business days. UPS is unable to deliver to P.O. boxes.

Shipping Rates

Concession rates: We offer a lower than normal rate on all products.

Expedited

Expedite delivery rates are calculated at checkout.

Return Policy

At TeraGanix, we take great pride in the quality of our products. Upon receipt of your item, please inspect your purchase and notify us of any damage; we will arrange for a prompt replacement.

Within 30 days, you may return your items for a refund of the merchandise value.
Uses and Applications
Washing Clothes
1/2 cup per load. You can also use this in place of any other laundry detergent.
General Cleaning
Mix 1 to 4 ounces in a gallon of water. This is a great way to get rid of detergents and scents from new clothes that can cause headaches or rashes.
Bathrooms
Mix 6oz in a gallon of water and use to clean floors, toilets, urinals, tile walls.
For mirrors and chrome use 1/2 oz in a gallon of water and use a squeegee or lint free cloth.
Hard to Clean Surfaces
Mix 4 - 6 oz in a gallon of water and soak for 2 - 5 minutes before wiping surface clean. For cooked on food allow to soak for 15 minutes before scrubbing. 
Upholstery and Carpets
Use 2 oz in 1 gallon of water in an upholstery cleaner.
Cleaning Windows
Dilute 1/2 oz of APC 500 in a gallon of water. Use a lint free cloth for best results.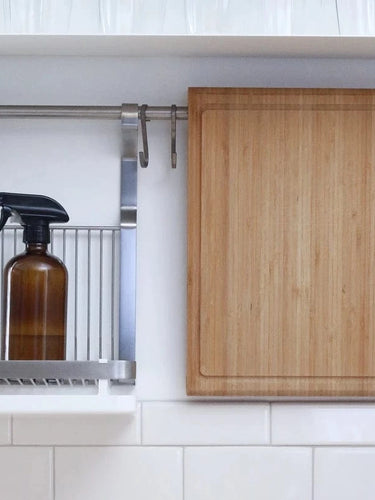 The best all-natural alternative to harsh chemical cleaners.
With ingredients that include yucca extract, grape alcohol, apple cider vinegar and our EM-1 Microbial Inoculant, APC500 is safe on virtually every surface.In addition to being a healthy choice, APC500 is also an effective one. This organic cleaner cuts through grease and neutralizes odors on contact.