Our kit provides everything you need to activate EM-1® Microbial soil amendment and bring life and vitality to plants, shrubs, trees and other beneficial lifeforms. Activating EM-1® is easy to do and is a very economical way to use your EM-1® concentrate. So if you're looking to transform your garden and help protect plants from pests, disease and difficult soil conditions why not try activating EM-1® today. 
Kit includes: 
1 Gallon Blackstrap Non-sulfuric Molasses
1 Gallon Clean Bottle with lid
ph Paper
INSTRUCTIONS FOR ACTIVATING EM-1®

Simply add

5% molasses
5% EM-1® concentrate, and
90% water into the clean 1 gallon bottle supplied

Mix together and let the mixture ferment for 7 days, then you'll have 1 Gallon of activated EM-1 that promotes healthy soil, and plant growth in your garden.

After 7 days check the pH level of the activated solution. pH should be between 3.2 - 3.6 and have a pleasant bittersweet smell. Color should resemble that of the EM-1® concentrate.

Use Activated EM-1® within 45 days and dilute at the same ratio as EM-1® Concentrate instructions.
SHIPPING & RETURNS

Shipping Information

UPS and USPS can deliver most items within 3–5 business days. UPS is unable to deliver to P.O. boxes.

Shipping Rates

Concession rates: We offer a lower than normal rate on all products.

Expedited

Expedite delivery rates are calculated at checkout.

Return Policy

At TeraGanix, we take great pride in the quality of our products. Upon receipt of your item, please inspect your purchase and notify us of any damage; we will arrange for a prompt replacement.

Within 30 days, you may return your items for a refund of the merchandise value.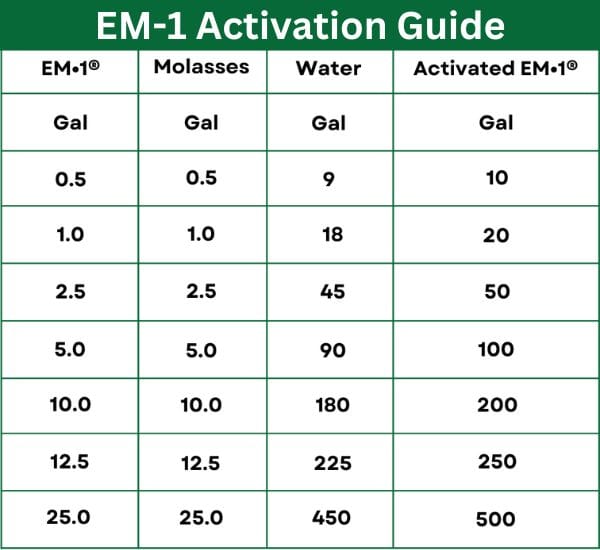 Get The Most Out Of Your Garden
Activated EM•1® produces metabolites like amino acids, enzymes, vitamins and antioxidants that enrich and revive your soil - encouraging healthier growth from your plants.